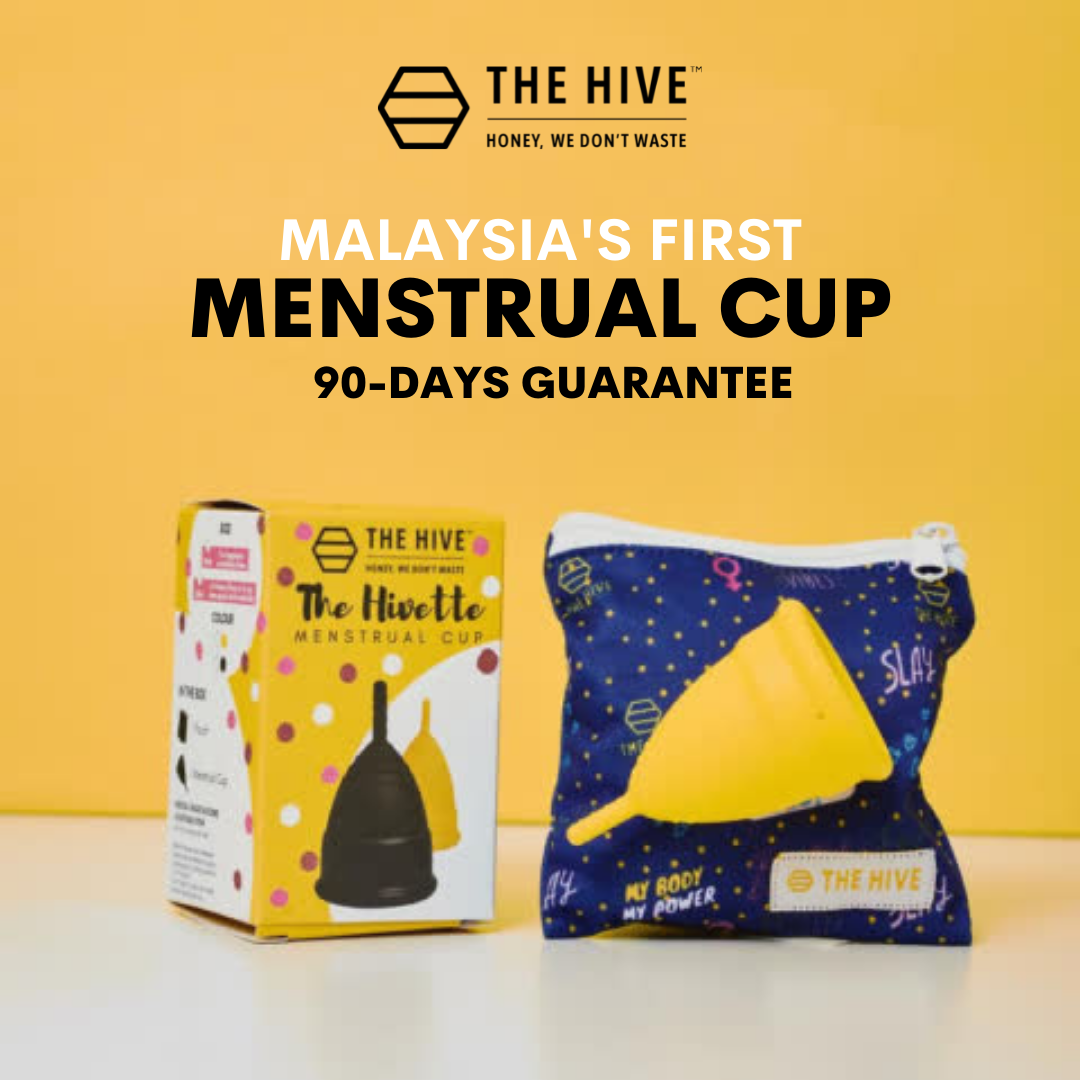 What is The Hivette?
The Hivette is Malaysia's first local menstrual cup, which was introduced at the beginning of early 2019.
The Hivette is a menstrual cup, which is used to collect menstrual fluid for women.
Without a doubt, The Hivette is indeed an environmentally-friendly alternative to pads and tampons, and also a solution to plastic problems on Earth!
Frequently Asked Questions (FAQs)
What should I know about The Hivette?
Where is The Hivette manufactured?
The Hivette is made of FDA-registered and medical-grade silicone which originates from Germany, while the moulding process is done in China. The laboratories testing is done in Kuala Lumpur, Malaysia.
What is the shelf-life of The Hivette?
The material of the Hivette is tested to last for years. With proper care, it can lasts up to 10 years. However, we recommend that you replace it if the material starts getting sticky, cracking or any visible tears spotted.
What is inside the packaging?
Every purchase of The Hivette will get you one (1) Hivette cup and a waterproof travel-friendly pouch to store your cup. Psst! You are also entitled to a 90-days Satisfaction Guarantee!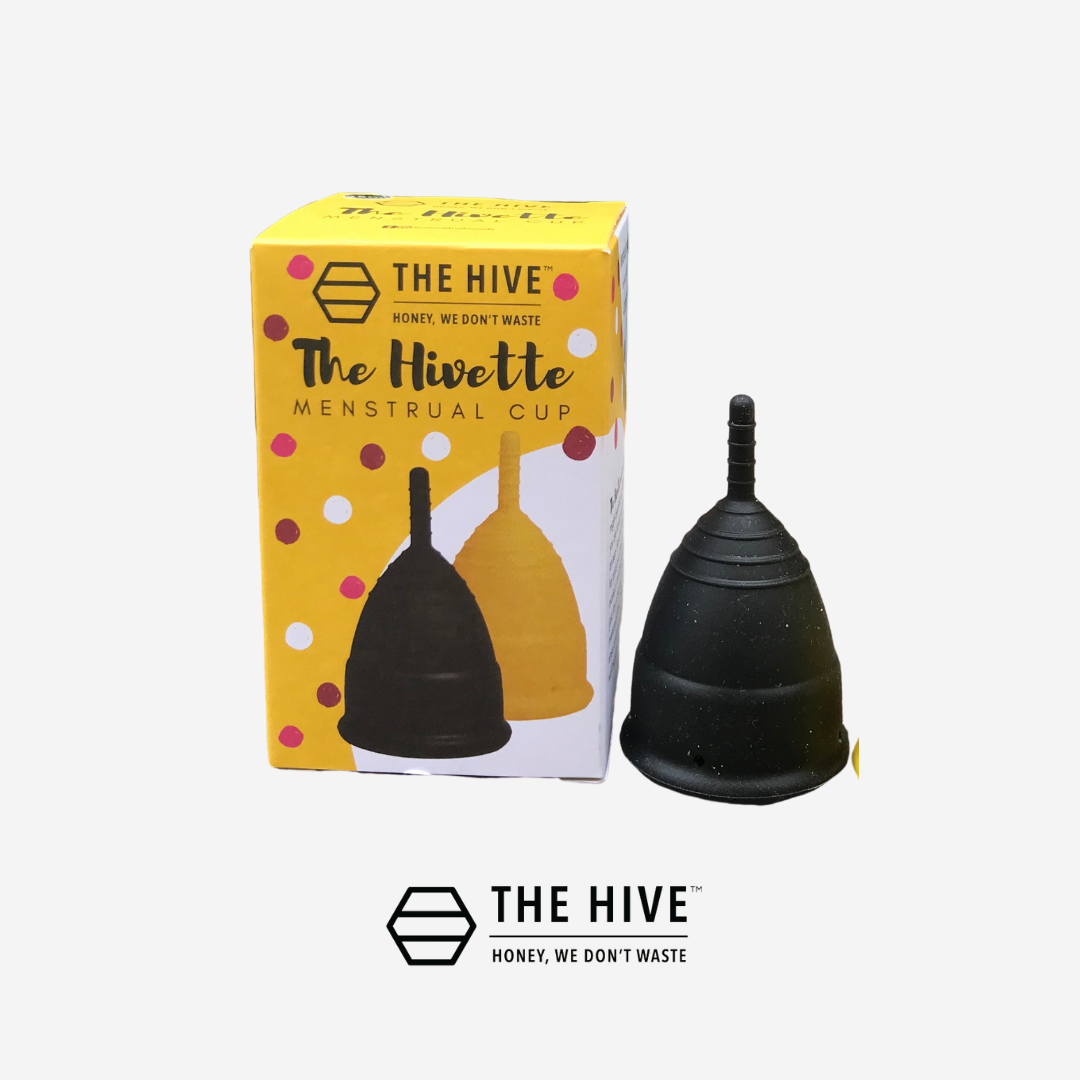 How do I choose the perfect size for my cup?
The smaller cups (25ml) are generally suggested for women that are:
- First time trying a menstrual cup
- Younger than 30 years old/teens
- Haven't given birth, vaginally
- Never had sexual intercourse
The bigger cup size (35 ml) is frequently suggested for ladies who are:
- Older than 30 years of age
- Giving birth, vaginally
- Have a heavier period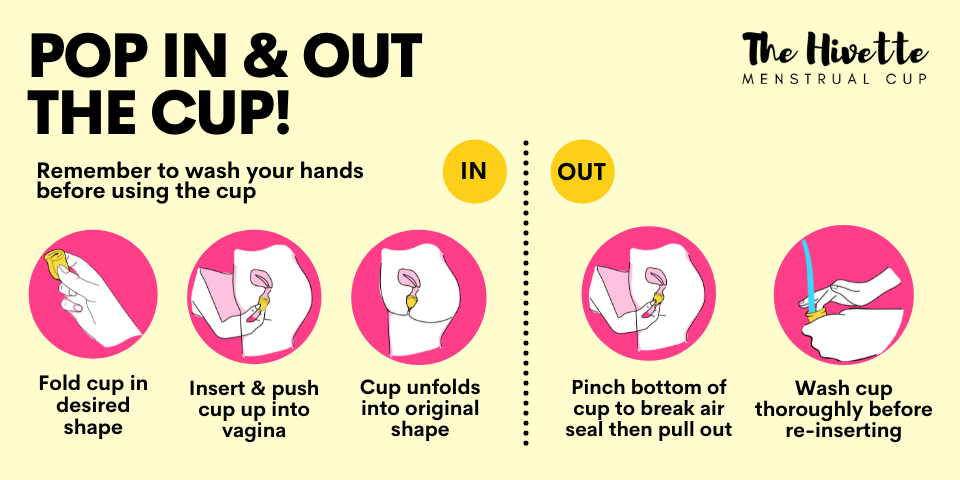 Your first time using a menstrual cup can be a bit daunting. However, the process becomes very easy after 2-3 cycles of period and eventually, you will get used to it without you even realizing it.
Cups can be worn comfortably for up to 12 hours, but when you first start using a cup, we suggest testing it after 4 or so. You will have a clear idea of the flow after a few cycles and how much you need to drain it
We have several choices on how you can fold the cup before insertion. Noted that, everyone has their own preference. Try and let us know which one suits you the best!
Watch the video
You absolutely can go to sleep with your menstrual cup replacing disposable maxi-pads. It is advisable to empty the cup just before bed as they can be worn up to 12 hours. Again, we do recommend emptying the cup every 4-5 hours because of Toxic Shock Syndrome although it is extremely rare, worldwide we are aware of only 1 case over the past 10 years.
First of all, the presence or absence of hymen shouldn't define your virginity. Secondly, the hymen is very soft and thin tissue, located at the opening of your vagina. This means, it also can break due to physical exercise too
No, it wont (assuming you are wearing the right size) You don't have to worry about the leakage if you're wearing the correct size. You should be able to sweat without any leaks. We always recommend wearing a liner during the first few cycles until you discover what works best for you (liner or no liner).
No, wearing menstrual cup can't causes infertility. Infertility caused by many other factors and wearing a menstrual cup ain't one of it. Yes, the vagina's wall will bend and move to create space but it is totally normal. Once the cup is removed, it will return to its compressed state
Yes, you can. Before using The Hivette with an IUD, it is recommended to ask a doctor. The Hivette cup is not a means of contraception.
YES and YES! You will have to empty your cup more frequently, depending on how strong the flow is, but if you suffer from endometriosis, it is fully safe to use a period cup. We always, of course, recommend consulting your doctor first
You don't have to remove it. You can urinate while wearing it The menstrual cup is placed into the vagina, which is different to our urethra (the tube which carries the urine). Theoretically, there's no interference with urination and wearing a menstrual cup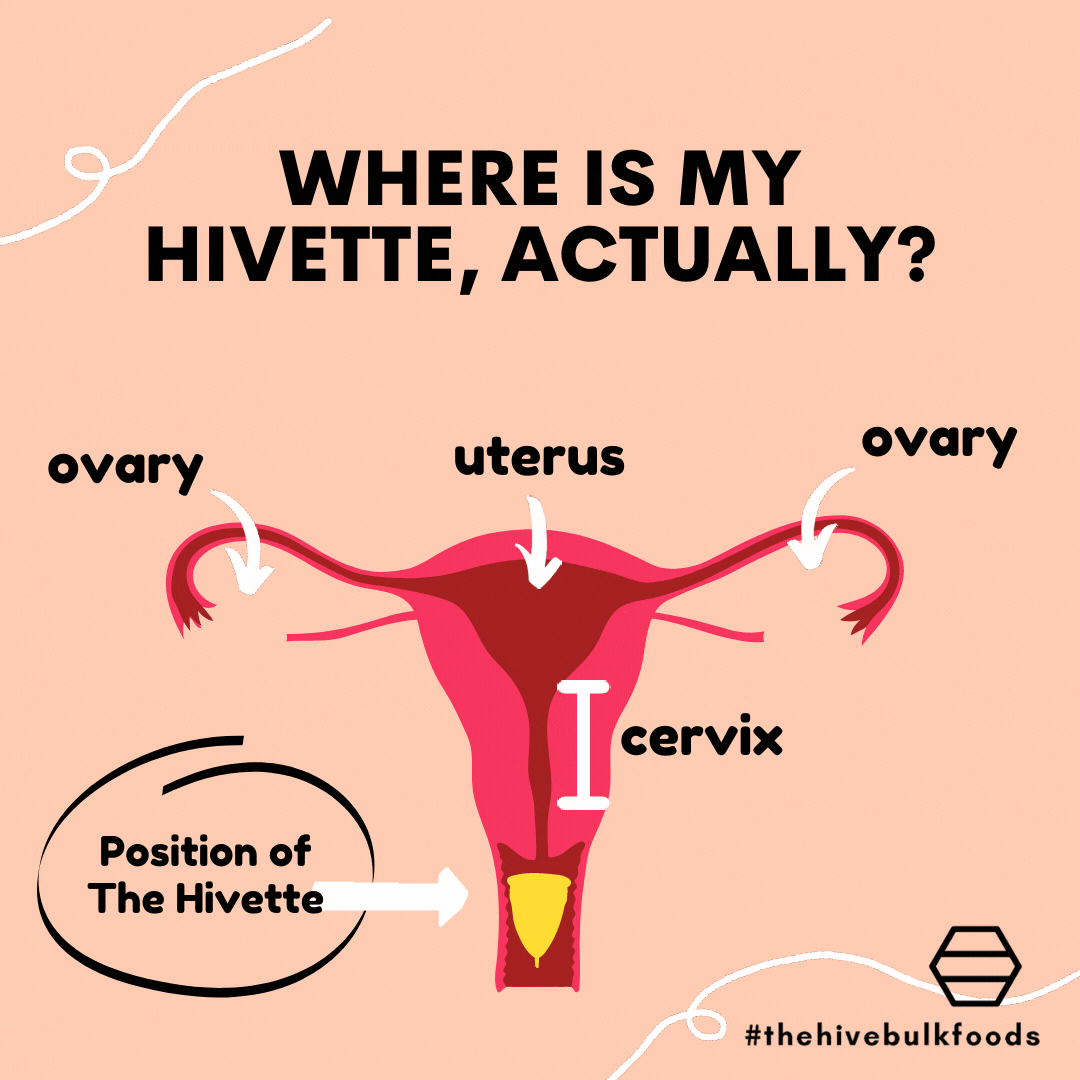 Can The Hivette get lost inside me?
No, the menstrual cup won't get lost
The cup inserted in your vagina will be held in place by a strong pelvic muscle at the tube between the cervix and vaginal opening.
The opening of your cervix is slightly open to allow the blood to pass through, so it is impossible for the menstrual cup to go in and get lost inside you.
It is normal if you can't feel the menstrual cup, but now you know it is there, it's just you can't feel it. You can try by squatting down and use your muscle to push it down while staying relaxed.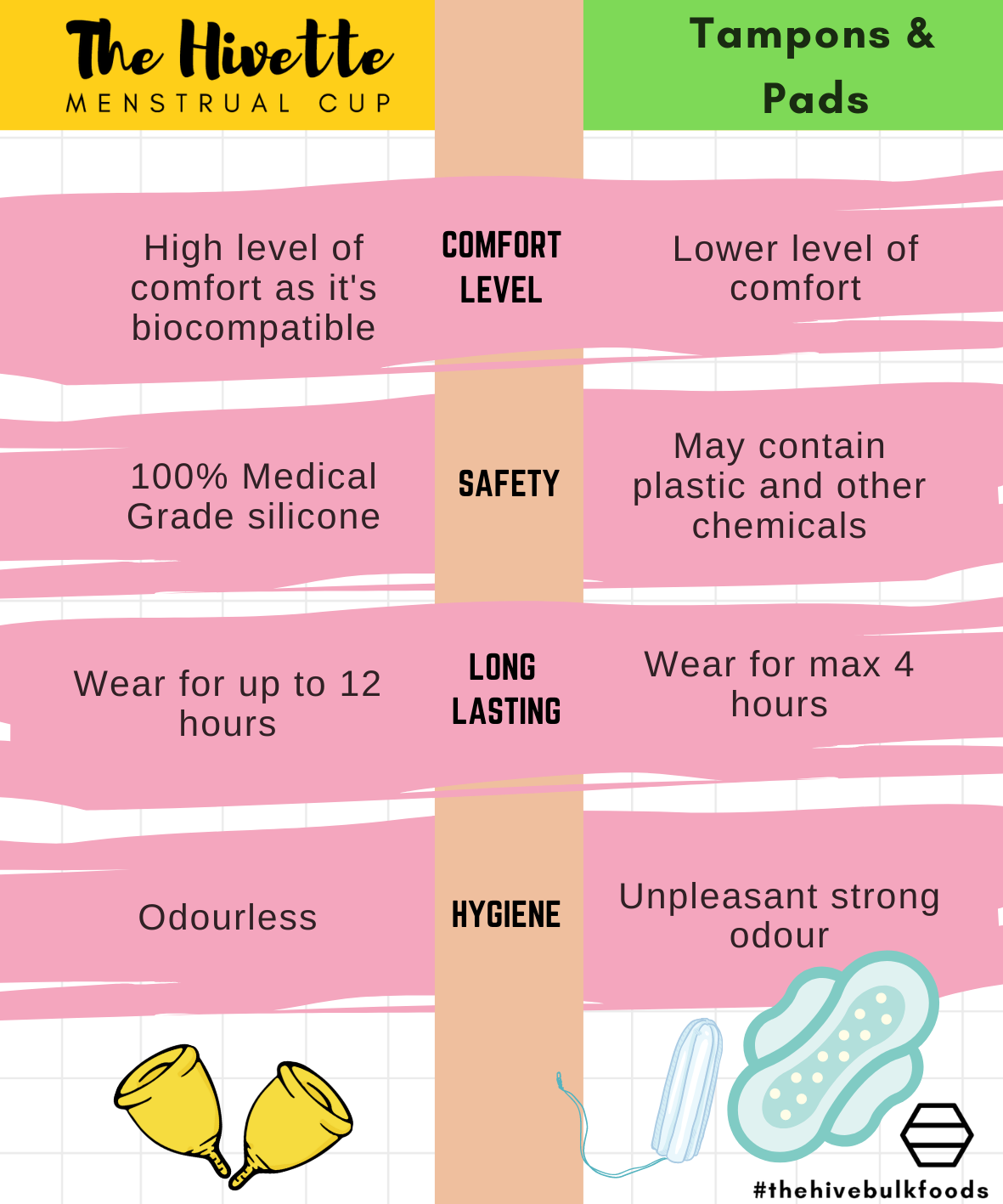 How is the menstrual cup is safer than tampons or disposable pads?
A menstrual cup is safer than tampons/disposable pads as menstrual cups collecting the fluid rather than absorbing it like the tampons/pads did. Thus, it lowers the risk of getting Toxic Shock Syndrome (TSSS) resulting from bacterial infection.
The Hivette is made up of a medical-grade silicone where technically, this material is known for being skin-contact safe, durable and versatile to be used.
Plus, The Hivette is tested in Kuala Lumpur Laboratory :-where we got the Certificate of Analysis (COA)
You might also like
The Hive Squeaky Hivette Cup Cleanser
RM15.00 MYR
Get me one!
Zainah Sustainable Flow Kit
RM99.00 MYR
Get me one!
The Hive Reusable Sanitary Pads
RM15.90 MYR
Get me one!